Welcome to The Dragon Ball Rebirth Wikia.
We are currently editing over 85 articles and 176 images and you can help.

Be warned that this wiki is filled with Fanon Content altering the Dragon Ball Universe just a little. Read at your own risk!

This wikia is filled with pages from our mother wikia, Dragon Ball Wikia.

About Us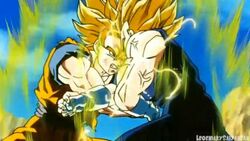 The Dragon Ball Rebirth Wikia, founded in May 2015 by User:EmperorSigma and co-founder User:Narianos, is a wiki of fan-invention based in the Dragon Ball universe. Here, we allow users to create their own fan fiction stories, characters, techniques, etc., as well as allowing them to collaborate together in what is known as a roleplay; where fan fiction writers can write stories together, pit characters against each other in fights, and even do comedy skits. Users are also encouraged to get to know each other, make friends, and communicate with each other via the Message Walls provided by Wikia to promote a friendly writing environment, as well as allowing them to collect feedback for their works.
Featured Article

Arctic' (アークティック, Aakuteikku) is a member of the Frost Demon race hailing from the Sixth Universe. A powerful member of Frieza's race, he has gained the attention of both the God of Destruction Champa and the Supreme Kais. The son of the legendary warrior Frost, Champa employed Arctic to serve as a temporary destroyer as Champa was too lazy at times to do his job. With his extreme power, Arctic took the great honor as serving as a destroyer for his lord and was assisted by Vados.
Main article: Arctic
Poll
What is your favorite race?