Your wish has been granted! This here is the 4th Featured Article.

"Nagi" has been featured, meaning it was chosen as an article of interest.
Nagi (ナギ, Nagi) is a male Saiyan born on Planet Xeleri in the Fifth Dimension.
Appearance
Edit
Nagi, much like other members of the mighty Saiyan race, bears the appearance of their warrior birth coursing through his veins strongly. The stance Nagi takes in daily life is relaxed: upright, but with a slight slouch. One particular portion of his appearance is his figure. He is fairly tall compared to some Saiyans, but holds a somewhat leaner and trim figure compared to some of his brethren though he is still highly muscular. This is combined with his wild black hair that faces towards his right, obscuring a portion of his angular, handsome, face and strikingly cold black eyes, morphing into the image that can only be called Nagi. From being born outside the royal family, Nagi'a tail was removed to prevent him from gaining the power of the Great Ape, though this form would later have proven to be meaningless for him. With his Super Saiyan form, his hair will turn golden blonde and spike up, with his eyes turning a greenish-blue in color.
Personality
Edit
Biography
Edit
Techniques and Abilities
Edit
Transformations
Edit
Super Saiyan
Edit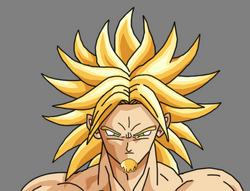 Nagi, due to his unique power seemed to have a natural inclination to awaken this form. This form turns his dark eyes green and makes his hair spike up and turn golden blonde. His power is greatly enhanced. However, Nagi rarely uses this form as his Legendary Super Saiyan form does everything this form does better and more. He may use it to psyche his stronger opponents out into thinking he is weaker than he truly is.
While it is clearly not as powerful as his Legendary Super Saiyan form, Nagi is still quite powerful in it. In it he can fight against multiple weaker yet still stong enemies without having to fully engage, and it allows him to spar against over Super Saiyans to train without completely dominating them. Nagi appears to have mastered this form, which is why he is able to control himself better in his Legendary variation of it.