This page, Parika, is apart of the Rebirth.
"We are often led astray amidst the chaos, but a sense of justice always leads us to the good in our hearts."
— Parika

Parika (パリカ, Parika) is a Saiyan originating from Planet Xeleri. Tasked by King Mato with the assignment of monitoring the activity of both Xeleri and Tarragon, Parika was launched to Earth in a newly-built pod, which would reduce the trip to Earth to one year.
Background
Edit
Personality
Edit
Appearance
Edit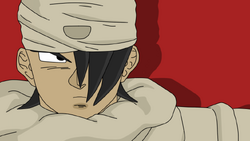 Abilities
Edit
Planet Earth Saga
Edit